Laura Smith
Producer / Account Manager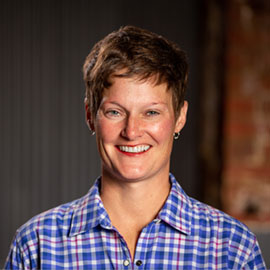 Laura Smith joined the Impact team in 2019 as a Producer and Account Manager and brings with her more than 25 years of production experience. Her highly creative writing style has led her to craft meaningful stories for her clients over the years including American Greetings, Kent State University, Moen, and Sherwin-Williams.
From writer to photographer Laura has worn many hats throughout her career. She enjoys playing a key role in many aspects of client projects. Seeing a simple idea come to life and making a positive impact on someone is very fun and rewarding for Laura. In addition, she enjoys developing lasting relationships that serve her well in both business and in life. Really getting to know people and how they work is what builds trust and allows the creative process to thrive.
When she isn't immersed in work, Laura loves being on the water—especially Lake Erie, traveling, meeting new people, seeing beautiful places and taking photos along the way.
Laura has a bachelor's degree in Mass Communications from Miami University, Oxford, Ohio.