Impact Communications Welcomes New Producer and Graphic Designer to the Team
Tuesday, August 13, 2019
Impact Communications is pleased to announce the addition of two new team members. Laura Smith brings more than 25 years of production experience to her role as Producer and Account Manager and Lyndsay Sweet joins the graphic design team, bringing a wide array of design expertise in brand identity, motion graphics, and presentation graphics.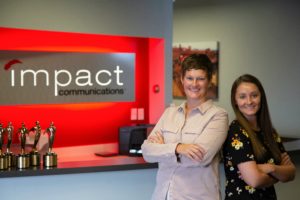 "As we enter into our fortieth year in business, Impact continues to see new growth and as a result, the need to expand our team," said Bob MacDonald, Owner and President of Impact Communications. "We are delighted to bring new talent on board and welcome Laura and Lyndsay!"
Most recently, Laura worked for nearly fifteen years as a writer and producer for Gateway Communications Group where she was responsible for managing every aspect of video production and photography. Similarly, in her role as producer and account manager at Impact, Laura will contribute to all aspects of event production, including scriptwriting, video production, talent booking, and more.
"I love to craft a meaningful story and what drew me to Impact was how for decades, this company has worked consistently with many big-name clients to produce amazing, large-scale events that year after year remain memorable and truly tell a story," said Smith. "I feel my previous experience aligns me perfectly to succeed in this new role and I look forward to working with such a talented group."
Lyndsay Sweet joins Impact following her graduation Magna Cum Laude from The Ohio State University with a Bachelor of Science in Visual Communication Design. Though new to the fulltime workforce, Lyndsay has professional experience stemming from internships throughout her college career. Most recently, she spent the last year interning for the Wexner Center for the Arts in Columbus where she designed a variety of print and digital materials displayed in and around the Center. In 2018, Lyndsay was selected as one of six designers to design Ohio State University's 150th anniversary book for publication in 2019.
"Design is my passion and I am excited to bring that passion to a company like Impact, that has so much diversity in the types of design it executes," said Sweet. "I look forward to bringing my skillsets to work on behalf of a wide array of Impact's clients."
About Impact Communications
Impact Communications is an award-winning multimedia production company, designing and developing engaging programs for marketing, training, education and entertainment.  Headquartered in Cleveland, Ohio's historic warehouse district, Impact conceives and develops a broad range of media solutions – from interactive programming, videos, web sites and corporate meetings to immersive exhibits and interpretive tours.  Since 1979, Impact has been helping audiences improve productivity, discover, learn and have fun!