Impact Communications saw another busy year in 2018 filled with creative event production, the use of exciting new technology, lots of travel, a new Production Assistant, and even a new baby! From innovative events to unique interactive exhibits and everything in between, 2018 was a fulfilling year for the Impact team. Take a look at our top 18 "hits" of 2018.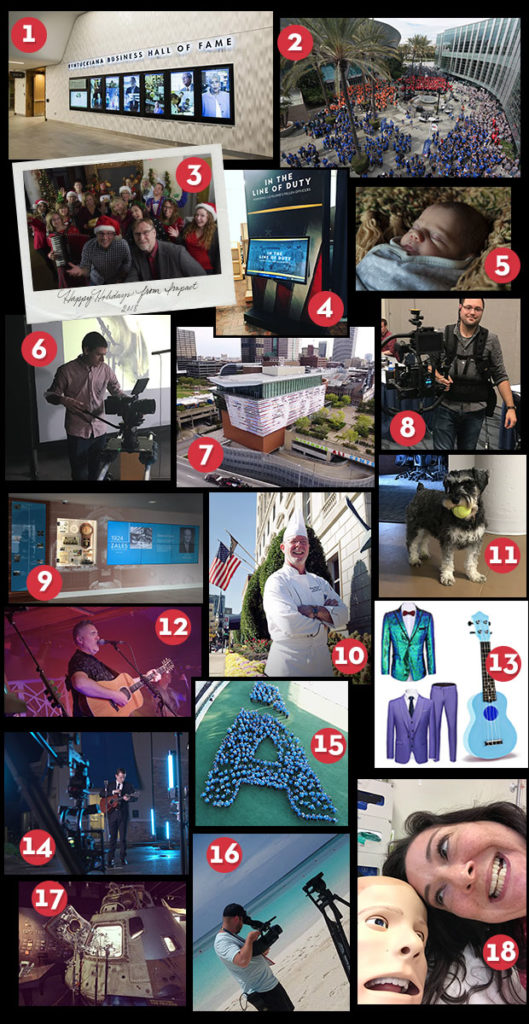 Junior Achievement of Kentuckiana chose Impact to show the world why Louisville, Kentucky is a fantastic place to live, work and play. This interactive exhibit featured 6 vertical monitors, custom animations and top-notch cinematography.


In 2018, Impact staged a reunion for 4000 corporate team members who hadn't seen each other for an entire year. Colored t-shirts identified the tribe members as they mingled and reconnected at the rally.


Holidays are such a production! Nothing says Happy Holidays quite like a video production that includes a princess, accordion music, cats and green spandex. You had to see it to believe it.


This touchscreen interactive program at the Cleveland Police Museum invites visitors to learn about and honor each Fallen Officer's final sacrifice. We were honored to help our city pay tribute to these heroes.


Our Director of Photography, Craig Toussant, welcomed baby Eleanor – his finest production of 2018: Eleanor Ann, born 12/14/18 @ 11:46pm; weighed in at 7lbs. 4oz. Definitely worth the wait!


He shoots! He edits! He's young and talented – and if he doesn't know how, he's ready to learn. We happily welcomed Lucas Willis to the Impact video production team.


Impact is now licensed by the FAA to fly. We're ready to bring our clients a whole new view of their world through video shot from drones.


On the go – Impact's MoviPro is the most advanced camera movement system available.  Fashion forward, too. Coupled with the Red Helium 8K camera, Impact created a year of award-winning cinematography.


Creating a dramatic first impression, Impact brought a client's corporate history to life through video and exhibits inside their two newly-constructed headquarters' entrances.


Four cities, four chefs, one national award winner. Not only did we travel to create profile videos of each of these top culinarians, but the crew came home with great recipes and a few new cooking techniques! YUM!


Our dog-friendly office hosts furry friends Iona, Fred, Lulu, Hooper and Toby. Heck, we might be offering dog walking as a new service in 2019!


One private venue. 300 lucky guests. One national musical act takes the stage. If we had a million dollars, there's nowhere we'd rather be!


What did you purchase with your Amazon Prime account in 2018? Here's a snapshot of what we ordered for some of our clients' productions.


Who says you have to work in Hollywood to produce a music video?  All it takes is a talented client and a creative video production team with vision and skills.


Sometimes event production means getting out the engineering tools. To achieve this feat, we mapped out a giant 'A' per CAD calculations, laid out construction markers and string, then maneuvered 350 meeting attendees into position in less than 20 minutes. Capturing the event with multiple cameras including a drone, the moment kicked off 2018 in letter-perfect fashion.


Working in a tropical paradise is not a bad gig! Our Cleveland video production team traveled to The Atlantis Resort in the Bahamas over three separate weeks to shoot and edit daily videos of our client's Incentive Trips.


Sometimes our video production team can get ourselves into quite a tight spot — literally! 2018 saw us using GoPros inside an Apollo capsule to create a museum interactive exhibit. We love to show the world a view they've never seen before!


Corporate video production introduces us to new friends and allows us to learn about our client's diverse industries. It's always an adventure, and we often find kindred spirits in the most unusual places.